Leeds have struggled to match the fluidity of Neil Redfearn's caretaker spell in charge since the permanent appointment of Darko Milanic, and are still looking for a victory under the former Maribor coach.
Part of the reason behind the struggles has been a lack of consistency in midfield, with Milanic changing the four selected on a weekly basis.
While it could be suggested that it is time to change the shape away from a diamond in the centre, Leeds did have success under Redfearn playing that system, and there is no reason to believe it won't work, given the personnel available to Leeds.
What is an issue, however, is that Milanic does not seem to be willing to consider playing three of Leeds's best midfielders at once, it seems to be because of a perceived risk inherent in packing the midfield with so many young players at once.
When questioned in the past about the inclusion of Lewis Cook, 17, Milanic suggested you need at least some experience in the centre of the park.
The reality is that the most regularly played figure in the middle has been Tommaso Bianchi, and he has been comfortably the least impressive player of those who have been regularly involved.
Rodolph Austin returned to the team after a period out of it, and playing in the centre of the park as a box to box midfielder, he has shown his worth.
The dynamic Jamaican international is undoubtedly not a droppable player at this point, offering a drive that no one else in the midfield does.
Alex Mowatt, 19, has also shown an ability to carry the ball since recovering from his early season injury and then surprise exclusion under Dave Hockaday, something he never really showed last season.
Mowatt is, however, most impressive because of his range of passing, something that allows him to create chance after chance for Leeds's preferred front two of Mirco Antenucci and Souleyman Doukara.
Cook, who burst onto the scene at the start of the season, was exceptional under Redfearn, and didn't deserve to be somewhat dropped by Milanic.
Milanic also hasn't used him in his best position, preferring to play Bianchi in defensive midfield, and there's no doubt that he is missing a trick here – Cook can anchor the diamond far better than Bianchi, while also linking well with the likes of Mowatt and Austin.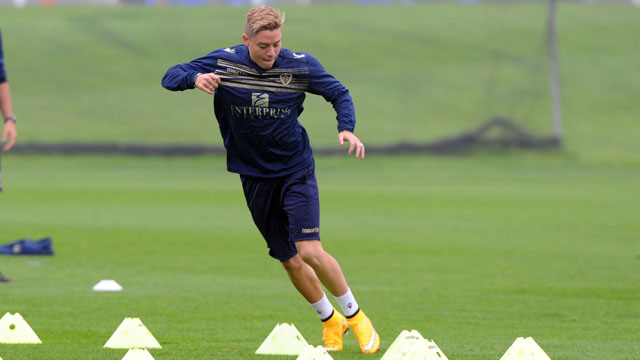 Adryan, 20, has played well in his game and a quarter for the first team, and given his display against Norwich, he deserves another few games to impress further.
This leaves Bianchi as the odd man out, and given that he has failed to do anything particularly significant while playing for the first team and the other midfielders have all impressed regularly in various groupings, it seems like it would be sensible to give the untested combination of Cook, Mowatt, Austin and Adryan a go against Wolves.
It is now up for Milanic to take that particular risk, backing youth in his search for a first win in charge of the Whites.